Here is the promised Do it yourself post about how to make a crystal necklace!
There was this one necklace, I adored for a very long time, but it was too expensive in my thoughts.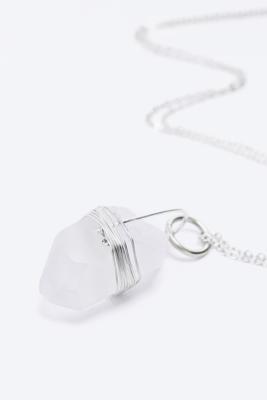 So this is the necklace! It costs 25€ and on the black friday just 17€. At this day I really thinked about buying it, but my boyfriend promised me, that I could do this more cheap and with every crytsal I want.
So that's the way I came to this tutorial...
All you need:
Some small rings
every crytsal you want to ( I wasn't in the postion of choosing one so I photographed more)
small jewellery wire
and some closures
1.

wrap the wire around the crystal to fix it and that the crystal can't slip out of the wire.

(It has last very long by me, but with a scissor, which that you pull the wire strong, you can do it)

And make a little loop at the top to place the ring.

It should look like this when you finished with this step.
2.
thread the wire in the little ring ( make the wire as long as you want your necklace ).
3.
Fix the closures at the end of the wire.
And that's it is! I really love my new necklace,but I'm looking forward to an really chain.
Hope you liked the post:) I think it is soo simple and you can save a lot of money by doing it by yourself.
Have a nice next week, love love love Daisy♥